Are you a Magento or Shopify Store owner? Then you must be familiar with the unlimited possibilities that these online storefronts provide. Many a times, stores need that extra push, going the extra mile, to help make a difference. If you want to make your store stand out and for it to perform optimally you need to install the right extensions for your Shopify and or Magento stores.
Why do we need extensions?

Extensions can modify the user interface or add some web service functionality to your browser. Simply put – they make your life easier. Browser extensions such as ad blockers, 3rd party cookie blockers, Grammarly for your proofreading needs and many more, are excellent examples of how having the right extensions can make it easier for you to spend your hours online.
Now imagine having all that power and control over your Magento or Shopify store, something that most Shopify web developers can do in the backend to make it more feasible for you. But now you have the power.
As a matter of fact, there are many Magento web development companies that will give you the option to pick and choose the type of extensions you wish to have on your account which they can go ahead and install for you during the development stage of your website itself.
Many Shopify experts and Magento website developers have vouched for these extensions as they have personally witnessed exponential growth and engagement for their clientele with these extensions.
They not only help your work become more seamless and drive consumers down the funnel faster but will also provide you with creative insights and data that will allow you to analyze your online store meticulously.
The results obtained from such an assessment can take your store to the next level if the lessons are applied with due diligence. Many of them are also free / open source so you can go ahead and experiment with them to see if they really meet your needs.
With that out of the way let's get straight into the best extension options that you can install on your website starting with Magento.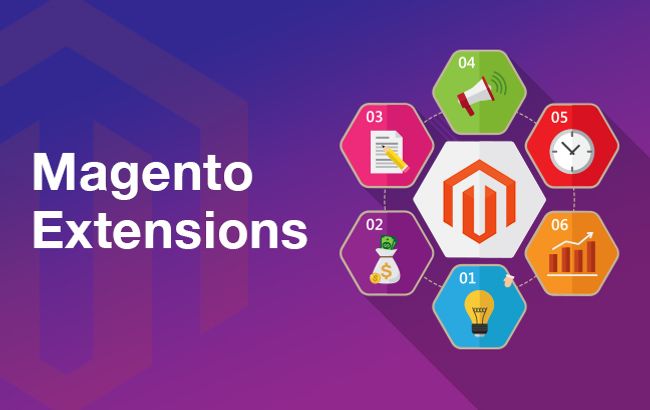 Some Great Magento Extensions
Magento B2B Marketplace
Hide Price Extension
The Multi User Extension
Catalog Permission Extension
Order Archive Extension
Reorder Extension
Magento B2B Marketplace – If you want your store to respond and bring in customers like moth to a flame then this extension is a must have. Magento B2B Marketplace can turn your store into a multifaceted online marketplace like Alibaba or EC21. This particular extension helps you design your store in a way that allows buyers and sellers across the globe to come together on a common platform and conduct business. Key features on this extension include:

Suppliers Microsite – Vendors can provide all kinds of related information such as trade policies, product details and company briefs to help buyers make an informed decision especially when they're looking to make a bigger purchase.
Quick Order – A feature that lets buyers search what they want with the help of SKUs or the name of the product making it easier for them and faster for the seller to make a sale.
Price List – Many people like to shop by the price to make sure they stay within budget limits and so having a price filter becomes all the more important. This feature allows buyers to filter by quotes, categories, product and unit price and even customer groups. How convenient is that!
Apart from these buyers can request for quotation and will also be assisted by a Sales Rep Module to help them convert without an actual sales rep having to be present thereby saving costs.
Some other USP's of this extension are B2B Bulk Order Management, Inventory Management Notification, Order Approval, Supplier Review & Rating Settings, Supplier Dashboard and a smooth Quotation Management System along with many others to tie it all together. If you're looking to take your Magento business to the next level this extension is a must.

Hide Price Extension – Are you tired of customers not engaging with your site due to the prices under your products? Perhaps getting them more interested in your products only to expose the prices to them at a later stage once they're hooked could do the trick. With the help of Hide Price Extension you can do just that. Here customers will have to login to view the bulk price on products and suppliers can set multiple price points for different customer segments accordingly.
The Multi User Extension – Let's face it, having to ask for permission every time you need access to a certain part of the store or backend can be quite frustrating. There are many people working on your store, on different tasks and different levels and to make sure they don't abandon their duties due to feeling of being left out, you as an admin, can grant access on different levels to your team members with the help of this extension.

You can choose from five various permission levels, restrict subaccounts from creating orders, allow sub accounts to create orders for a predefined number of products or a period of time, ask for cart approval permission from subaccounts and even set a specific master account for every subaccount. This makes it easy to delegate and manage your store in a more controlled fashion.

Catalog Permission Extension – Don't you wish you had a way to control what your customers see based on certain categorization metrics and standards? Through this extension, you can. Now you can limit access to certain categories products or pages that your customers can access based on certain customer groups that are designed by you.Those who are not permitted to access specific content will be redirected to another content page. Store admins can include any forwarding URL according to their needs. This feature will keep customers on your site & help them recognize catalog permissions clearly. With the help of this extension you can strategically show users what they're looking for, segment them according to purchase capacity, bring in more business and create an overall better shopping experience.
Order Archive Extension – Can't find an old important order in your ginormous list of current orders? Although as a store owner it feels great to realize how far you've come as a business, not finding the right order especially when you're pushed for time can be quite frustrating.What if you had an extension to help you with that? – The Order Archive Extension might just be what you're looking for. This nifty addition your store will give you the option to keep your orders organized in grids. You have the option to delete or archive old orders, thus making room for the new ones that you can access with a couple of clicks. This extension enables you to automatically archive orders, by setting their status or date so you can look them up as and when you need to without the hassle of going through the entire list.
Reorder Extension – What's more annoying than when you're looking for an old order as a customer and can't seem to find it due to a lack of responsiveness from the side of the business! This issue alone can lead to a drop in sales and as we know, a recurring customer is a happy customer. As the name suggests, this extension helps customer find and reorder items swiftly and accurately.An excellent extension from the standpoint of your sales since, it will help customers save time and automatically contribute to boosting your website sales. One keen aspect about this is that it allows for reorders irrespective of product category and with the option to see the SKU, product image, order quantity, stock quantity and order date, customers can make more informed decisions. This ease of use will have them coming back to YOUR store for more.

Often times, installing these extensions can be a buzzing pain the neck. Skip all the technical jargon and the formalities & hire Magento developers to take care of all your storefront requirements.
Now, let's have a look at some of the most noteworthy Shopify extensions that you just cannot afford to miss out on.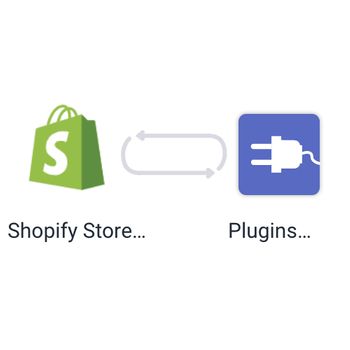 Utilitarian Shopify Extensions
Return Magic Extension
Back in Stock Extension
Wholesale Gorilla Extension
Voyager Upsell & Cross-Sell Extension
Oberlo Extension
Wholesale Catalog Maker Extension
Return Magic Extension – As a store owner you have to be prepared to face unhappy consumers that might want an exchange or replacement because often times shopping online can throw you off about the particular of the product in terms of size, color, likability, etc. You have to be prepared to tackle these demands the right way to ensure your store retains its good name.Return Magic Extension is one such tool that can help you with that. You can now easily track, respond and accept retunes from your customers through its automated cash refund feature – where you still have control so no dollar goes out of your business unless you sanction it. You can also set up different options for your customers to avail their refunds in the form of gift cards, store credit, etc.
Back in Stock Extension – If you pay close attention to your customers then you know how eagerly many of them wait for their items to come back in stock so they can beat the competition to it. How great would it be if you could let them know of the same without having to send tiresome mails out to each and every one of them?With the Back in Stock Extension life is now easier. With this handy plugin you can create a program to send automated emails or texts to people who sign up for the reminders. So now when your product is back in stock, they get a message and can act on it immediately.

It even lets you create a custom theme for your "back in stock" emails to create a branded personalization message. An effortless way to show that you care about your customer's needs. It takes five minutes to install, and you don't any prerequisite coding knowledge to make it run!


Wholesale Gorilla Extension – One of the most revered extensions endorsed by Shopify website developers globally is the Gorilla Extension. Why is it called so? Because of the array of possibilities that open up with it. You can now add tags manually or automatically when a new customer signs up which takes a lot of responsibility off your hands, you can hide specific products from wholesale or retail customers to better target them towards their segmented markets and save time.And if that wasn't enough you can also set minimum/multiple/maximum quantity rules for the cart, collections or products. Want to boost the order placement process? You can now do so by displaying a Single Page Order Form on purchases making it easier for customers to go through with their purchase. The cherry on the cake is that you can also create custom wholesale shipping rules. This extension truly lets you go apesh*t with your store.
Voyager Upsell & Cross-Sell Extension – We know what you're thinking – another typical upselling extension. But here's the deal – Voyager has been deemed one of the most efficient up-selling and cross-selling plugins by Shopify experts in NYC and all major tech savvy cities.This creative extension tracks what people add to their carts and automatically target shoppers with relevant products at checkout and on places like your homepage once you set it up. You can also offer bundles for specific products according to buying habits and product categories along with displaying complementary products that they are most likely looking for or can be convinced to buy. It also allows you to choose where you want to make special offers to help you boost sales in the best way possible for your business. Why is this one of the best plugins again? Go figure!
Oberlo Extension – This extension is aimed towards drop-shipping businesses to help them acquire, maintain and re-order stock with accuracy. Often times you aren't sure about which item would contribute the most to your sales for the season and this can lead to hundreds of thousands of dollars down the drain.With Oberlo you can prevent that. This plugin app categorizes the products that are particularly in high demand during the sales season thereby helping you pick the right product that can boost your earnings for that season. You can find products manually as well as through an array of filters & the Custom Data field can help you calculate your overall profit during the process.

What's more is that it allows for customized searching, one-click order shipping, product page customization and allows you to set automated pricing rules.

Wholesale Catalog Maker Extension – Last, but definitely not least, we have the Wholesale Catalog Maker Extension that helps you create B2B catalog with over 45 templates to choose from, helps you differentiate and present categorized catalogs to different customers at custom price points and allow customers to place orders immediately in the catalog! Talk about responsive design.

Now, we understand that designing your own Shopify store can be tricky especially if you're only savvy to the business side of your store. Sorting out the technicalities ought to be handled by the experts so why don't you let us take that aspect of your business off your hands.
Hire Shopify developers at Mobikasa that are trained to meet all your design, backend and customization needs. Shopify in itself has so much to offer so picking the right settings and tuning your store to the right configuration for it to perform optimally can be dicey for the untrained eye.
Looking to set up your own Shopify/Magento store? Leave a query in the comments and we'll get in touch with you shortly.