Choosing the most suitable e-commerce platform is essential to create, manage, and maintain an online store, as it can be a factor in the success or failure of the business. For small businesses, this is especially important because they must use limited resources and budgets to solve it.
We have outlined various e-commerce platforms on the Mobikasa website, but none is better than Shopify and Magento. Shopify & Magento has a place in the "all-in-one" platform market, and Magento is the largest player in large, more complex e-commerce sites. They are very different platforms, but we want Magento vs Shopify to see which one is right for your business.
As someone planning to create an online store or migrate your current store to other platforms in the near future, you may be considering your options. Shopify and Magento open source are today two widely acclaimed and used e-commerce store creation and management platforms. However, before making a comparative evaluation of these two platforms, you should fully understand that there are some huge fundamental differences between these platforms:
● Shopify is a commercial product (you need to pay), and Magento Open Source is free and open-source software.
● Shopify is a hosting solution (they host your store), while Magento requires you to provide your own hosting, install, set up, and configure everything before you can actually start creating a store-this requires intermediate to advanced web development and programming skills.
● Shopify is more suitable for beginners and has a simple user interface, while Magento has many features, but is more suitable for advanced developers.
Magento does have a paid version, but it has become extremely expensive and is only suitable for large enterprises that may spend tens of thousands of dollars on a website each month. Since most startups and small businesses do not have enough money to spare, we will not review the paid version. If you have no development skills and require help setting up your website then a good development agency such as ours can do the job for you. We specialize in website customization and setup having more than 10 years of experience under our belt.
Considering these differences, this is our positive comparison of Magento vs Shopify:
Magento vs Shopify: Pros & Cons
Let's start with a basic summary, and from the perspective of advantages and disadvantages, you can get expectations from each solution. Magento and Shopify have many benefits to consider, but there are also some areas that may not meet the needs of your e-commerce website.
Shopify Pros
● Many beautiful responsive store themes to choose from
● Comprehensive e-commerce builder
● A great app store that extends the functionality of your website
● Zero Hosting Charges and free SSL
● Pretty good customer support
● Easy to use
● Many checkout and payment methods
● A large community of loyal fans
Shopify Cons
● Most themes have additional prices
● Integrating the app into your store makes it more complicated
● Each transaction is charged (unless you use Shopify to pay)
Magento Pros
● Excellent community, providing a lot of support for users
● Flexible platform with many customization options
● Rich themes to choose from
● Provide telephone support
● Magento trade does not require real coding knowledge
● Magento is open source and can be used for free
Magento Cons
● There is a little learning curve
● Quite difficult for beginners
● Takes a lot of time to build
● The substantial expenses associated with opening a store
Magento vs Shopify: Feature Comparison
Basic online store functions
Both Shopify and Magento provide basic store functions, which are quite powerful and can be used and maintained continuously. Shopify is much easier to set up and use than Magento. You will find that both Magento and Shopify include basic functions such as a shopping cart, checkout module, favorites, and product pages. The main difference is that Magento has more intermediate and advanced features built into the system, whereas with Shopify, you usually have to get apps for extended functionality.
Inventory Management
All Shopify plans allow you to have an unlimited number of items in your store. Magento also allows you to create and sell an unlimited number of products. You can easily create products and collections on both platforms, but the reason Shopify takes the lead here is beacause it integrates directly with direct inventory applications like Oberlo.
However, it should be noted that although Magento allows an almost unlimited number of products if you add too many products to the Magento store, your host (server) performance and site loading speed may become serious issues, unlike Shopify.
Shipping cost calculation
Both platforms provide flexible and powerful options to calculate shipping cost-this is one of the most basic and essential aspects of selling physical goods through e-commerce stores. Shopify also integrates with some direct shipping tools (with shipping estimates) and a more accurate shipping calculator, which may help if you want to provide customers with as much accuracy as possible.
Offer coupons and discount codes
Shopify, a bit weaker here, does not offer this feature in its lite plan, but it is available in all other plans. Magento allows the creation of discount codes and similar functions from the beginning.
Payment gateway option
Shopify has a major advantage here, supporting more than 70 payment gateways, while Magento is at a relative disadvantage, supporting a much smaller number of gateways. However, more gateways can be added to the Magento store through third-party add-ons. The main problem I see with Shopify is because it directs you to its built-in payment gateway. Shopify's gateways charge 0% transaction fees, but they make you pay for third-party gateways.
Themes and templates
Both Shopify and Magento provide a large number of themes and templates to make your online store look and style suitable for your products and tastes. The number of free themes provided by Shopify is much smaller than that of Magento Open Source. It can be noted that the free version of Shopify is usually more modern than the themes provided by Magento Open Source.
Both offer paid/premium themes, but here, Shopify is at a big disadvantage. Premium themes start at $29, and Magento paid themes to start at – almost incredible – $1!
In order to meet the essential requirements of today's responsive website design (a design that can work well on PC & mobile ), both Shopify and Magento provide a large number of free and paid response templates.
Apps and Add-Ons
A diverse assortment of apps and add-ons are available for Shopify. Applies to Shopify in various ways to help enhance and expand the functionality of the online store. The Shopify app store is constantly evolving, including apps for loyalty programs, accounting, and email marketing. Shopify also manages its app store well, so you won't install junk apps that can damage your website.
Magento once again has a strong advantage here, with an amazing 5000+ apps and add-ons. This is mainly because the platform is large, open-source, and community-driven. Both platforms can use free and paid applications/add-ons.
Generally, you should be able to find free apps related to so many tasks on both platforms. I often stumble across Shopify and then complete a quick search to find similar and free content.
Multilingual function
Shopify cannot directly provide complete multilingual functions. To create a fully multilingual store, you can use a third-party/paid app. Another option available for Shopify is a custom code theme to make it multilingual. However, you will most likely have to find an expert Shopify developer to complete the task. Magento is once again in an advantageous position with its built-in multi-language support.
SEO function
Both platforms provide extensive search engine optimization functions to help you bring more organic traffic to your store through search engines, and they almost go hand in hand in powerful search engine optimization functions and advantages.
Customization function
Both platforms provide powerful customization functions. Through the advanced interface, you can directly edit the original HTML/CSS code, giving you complete control over the design and appearance of the store.
However, as mentioned above, Shopify gets a higher score here by providing a simple, menu-driven method to easily change the basic attributes of the store (such as fonts, colors, etc.). Since Magento's customization function is very powerful, because all its code is open source, you can modify it in any way you want. Even so, this unrestricted freedom of customization can only be used by people who are deeply rooted in web programming and HTML/CSS coding knowledge.
Also, Shopify provides a theme editor that allows you to play with the appearance of the theme and has the function of hiding parts so that you can make future updates in advance without having to copy the theme, and you can also work on a Staging environment.
Finally, Shopify provides drag-and-drop sections, which are great for organizing content on your website. It is completely different from the actual drag and drop builder, but compared to Magento, it makes designing the interface easier.
Blog feature
Shopify provides an integrated Blog feature which is independently available by default. This feature can be achieved through Magento as well. As long as you have developers to help you with the website structure any blog feature can be integrated onto, your Magento website and it should be more customizable than the content they provide on Shopify.
Magento vs Shopify: Theme & Design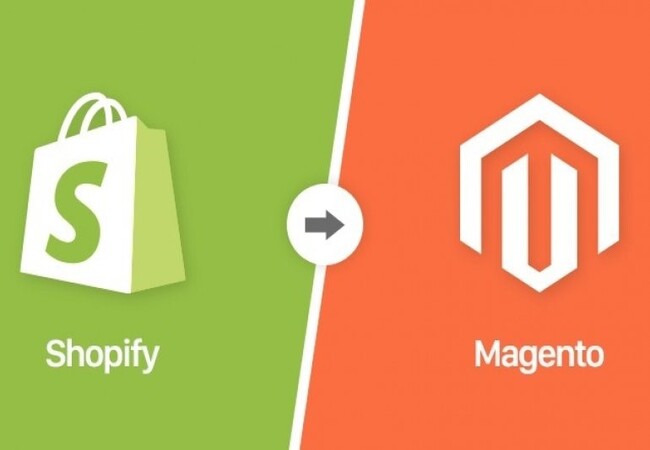 Although the appearance of the website far exceeds the appearance, attractive websites are usually more attractive and easy to navigate. The right to use the right theme can enable you to provide a better user experience and ensure that you are different.
In terms of front-end appearance, Shopify has a lot of great, fully customizable themes to choose from. More importantly, Shopify's themes are easy to get started. As long as you can add your own content and products, you can basically use them.
Another great thing about Shopify from a design point of view, this is a theme optimized for mobile devices. This means that whether they are browsing on a desktop or not, they will impress Google and your customers. Features such as product zoom are also to be explored.
On the bright side, if you have cash, Shopify offers a lot of customization options, including options to change the color palette, add new pages to the site, delete and resize elements. You can also integrate social media tools on the page.
On the other hand, Magento offers far fewer themes. There are 16 themes in total, and they have free and paid options for you to choose from. 10 of these themes are related to mobile devices, which means your website can automatically adjust its size to any device.
Magento also allows you to implement your own themes and update the design from the back end of the online business. However, this requires more developer knowledge than you need.
On the bright side, Magento also offers many excellent customization settings, including the option to add product sliders to your homepage or implement animations. You can also include newsletters in the footer of your website.
Shopify is definitely a better choice if you are looking for a variety of themes to choose from. With a wider range of Shopify available, these sites always look great. However, Magento does have some more powerful features to consider if you have the right knowledge to use them.
Magento vs Shopify: Easy to Use
As mentioned earlier in this review, Shopify and Magento Open Source are both quite powerful e-commerce store building platforms. Both come with a well-designed and well-thought-out user interface, which makes it easy for any user to go online and go online in the online store.
Having said that, it should be pointed out that Shopify has a wizard mode. Even if Magento Open Source lacks this feature, even novice users can set up a store very easily.
In addition, because Magento is not a hosting solution, you have to purchase hosting and set up a store yourself, which is a process that is difficult for typical end-users to complete easily.
When I looked at Magento vs Shopify and considered ease of use, it was easy. Shopify wins.
Magento vs Shopify: Fees
Setup fee – Shopify does not charge any installation fees. In fact, they offer a 14-day free trial. You can use them to test and evaluate the features provided by their e-commerce hosting platform. With Magento, there is no need to use the installation fee, because it is completely free to use. (You will need to purchase a hosting server and pay for it, as described below.)
Monthly fees – Shopify offers four different plans, with monthly fees ranging from $9 to $179, as follows:
1. Shopify Lite plan: $9
2. Basic Shopify plan: $29
3. Shopify plan: $79
4. Premium Shopify plan: $299
To use Magento, you must provide your own hosting service, and the monthly cost ranges from $5 to 100s.
Bandwidth Fees
Shopify does not charge any bandwidth usage fees in any of its plans. With Magento open source, it will depend on the hosting provider you choose to host your store. In Magento vs Shopify, I like the bandwidth battle of Shopify because it is ok.
Transaction Fees
Shopify will not charge any other transaction fees if they use their own payment gateway. If any other gateway or method (such as COD) is used, the transaction fee structure is as follows:
● Shopify Lite plan ($9/month): 2%
● Basic Shopify plan ($29/mo.): 2%
● Shopify plan ($79/mo.): 1%
● Premium Shopify plan ($299/mo.): 0.5%
● When using Magento open source code, there are no transaction fees except for the gateway provider's fee (which varies by gateway). These fees naturally apply to Shopify as well.
Theme/Template Prices
Both platforms offer a large number of free and paid themes. Shopify and Magento premium themes are priced at $80 and $1, respectively.
Overall, it is difficult to compare Magento and Shopify in the pricing area. Shopify's monthly pricing is likely to be easier to manage, but Magento is free. The problem is that when using Magento, you have many other large costs to be aware of.
Magento vs Shopify: Apps and Add-Ons
While both Shopify and Magento have a lot to offer, you still need to make sure that you can use other applications and add-ons to extend the functionality of your website. Whether you are looking for a way to add WooCommerce or PayPal features to your store, the integration is very convenient.
Apps and extensions are available from Shopify and Magento to help you extend the functionality of your website. You can turn your website into a community version, which contains links to various membership plugins. In addition, you can select applications for applications such as countdown timers to increase sales opportunities.
When it comes to apps and additional features, Shopify is closer to WordPress in terms of options, with thousands of free and paid apps to choose from. However, keep in mind that some options will require a little coding knowledge.
The good news is that you can add most plugins with the click of a button. These give you access to things like trust icons that reduce the risk of abandoning your shopping cart, or social buttons that increase social opportunities. You can choose to extend CMS and e-commerce solutions.
On the other hand, Magento also has thousands of paid and free extensions to choose from. If you are not in the subcategory of Magneto Developers on the market today, you can still add many features without knowledge of coding.
With just one click, you can add gift cards and abandoned shopping cart features to your website. Business owners can also choose to implement pre-order functions or applications on the network with SaaS. Whether you want to improve order management options or expand your market share, you can do many things in e-commerce with Magento.
Although Shopify is generally one of the top solutions for apps and extensions, it still cannot compete with Magento 1 because the reason this website builder is so popular is its plugins.
Magento vs Shopify: Payment Processor
When comparing options with BigCommerce, Magento, Shopify, and many other sites, you need to make sure you have many good payment methods. After all, your website can only be profitable if you can safely complete the transaction.
Magento and Shopify allow you to accept partial payments and other transactions from customers' online credit. Shopify even has its own integrated payment processor called Shopify Payment Method. If you use this option, you can avoid the transaction fees that would otherwise have to be paid by Shopify.
In addition, if you want to use payment solutions that your customers are already familiar with, you can still use things like Paypal and Amazon Pay. However, it's worth noting that you need to pay for each transaction.
Shopify supports more than 100 different external payment processors, which makes it one of the most incredible shopping tools.
On the other hand, Magento developers and beginners can also use many payment methods, although they may need to do more work. Since you are not using a hosting platform, you will need slightly different skills.
Magento has more than 150 payment integration options to support all the major payment processors you know and love. In addition, you can access multiple payment methods in different languages and countries, so you can also sell products to overseas customers.
While Shopify Magento may be the best choice to quickly and easily implement your payment processing program, Magento has more international sales options.
Magento vs Shopify: Which one is best for your online store?
While both Shopify and Magento are quite powerful e-commerce platforms, Shopify provides higher ease of use because it is a managed and fully managed service.
Magento itself is free, but you need to purchase a host and perform all the software/system setup and installation process by yourself-only technically savvy personnel (not typical end-users) can perform this operation.
In view of this, and some of the above points, Shopify has become the winner of the e-commerce platform, which builds your online store with the greatest ease of use and powerful features. If you have any other questions about our Magento vs. Shopify comparison, please let us know in the comments section below.