Are you at a point with your online store where things have just kind of stopped clicking? Are you contemplating migrating to a different Content Management System but don't exactly know how or what the repercussions are? Today we are going to address all of that and make sure you know everything you need to know to successfully help you migrate your store.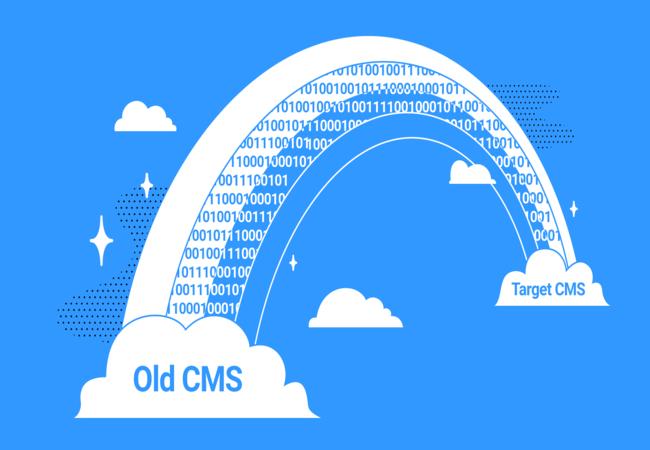 Now, just developing a store is no easy task, migrating is no cakewalk either. Many Shopify developers will tell you that in order to ensure you don't lose any data you must follow all the required steps and create backups as and when necessary.
Magento website developers agree on this matter and irrespective of whether you're migrating from Shopify to Magento or vice versa, you need to seek out the help of qualified Shopify website developers and a reputed Magento web development company to make sure things go smoothly.
First let's have a look at what you need to know when you're
Migrating from Magento to Shopify
Before migrating to Shopify you want to make sure you know WHY. Shopify has a lot of added advantages that Magento lacks so here are a few that you might consider in order to strengthen your resolve of migrating to Shopify: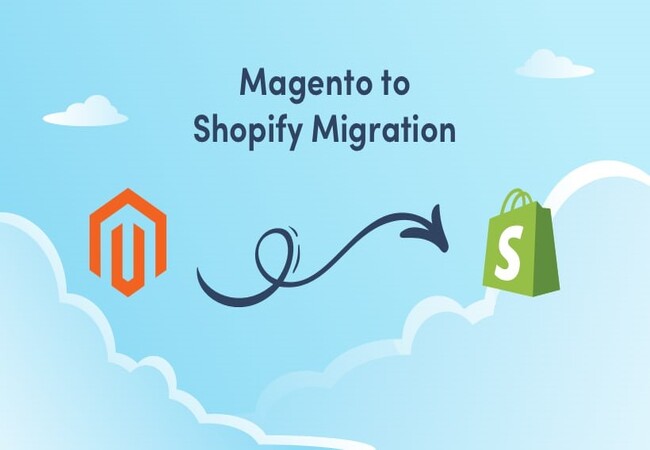 Perfect For People with NO Technical Background
Shopify does not require any technical proficiency to run. The back-end of Shopify is simple and clean and as many Shopify experts in NYC and other technologically leading states have said, it is also the most straightforward platform created till date. Whether you're trying to work on visual merchandising or menu editing using Shopify flow, your work is going to be seamless and you might not need the help of an expert.
Easy Customizable Themes
Themes are extremely important and speak to the design language and by extension, the manner of the business. Having the right theme is important since no two stores are alike; customization of themes becomes all the more important. Shopify comes with a wide range of themes. You will find it easy to customize Shopify themes with no code utilization. It will make it easy for you to pick a theme as per the needs of your brand.
Sales and Marketing Tools at Zero Extra Cost
Shopify offers its partner's sales-oriented features such as multi-channel selling, abandoned cart recovery, physical and digital product selling, etc., making it super efficient for the store owners since they don't have to go out of their way to look for extensions that might fit the bill. Such extensions usually come with an added cost which can either be a one-time payment or a monthly charge depending on the product. Needless to say, this will drive up costs thereby taking away from the hard-earned sales money.
Native Payment Processors
Shopify has its own integrated payment processor called Shopify Payments which is free for all users except of course the regular credit card processing fees. Furthermore, Shopify supports 100+ different payment gateways that are paid for whereas Magento also supports more than 150 payment gateways but most of them are targeted at large businesses. For integrating other common payment processors, you need to install them from the Magento marketplace which obviously adds to your overheads.
Secure Hosting with Level 1 PCI DSS Certification
Shopify is a well-trusted e-commerce platform when security is of concern. If you're worried about your account information and hosting then now you can rest assured with Shopify. This platform has worked hard to ensure the security of its partners and users and has invested a lot of time and money to offer its clientele a secure and safe online experience. Their Level 1 PCI Certification is proof of their efforts. To add to the level of benefits, apart from securing your shopping cart, it entails hosting too.
Now that we know why Shopify holds the upper hand here let's walk you through how you can migrate from Magento to your brand new Shopify store.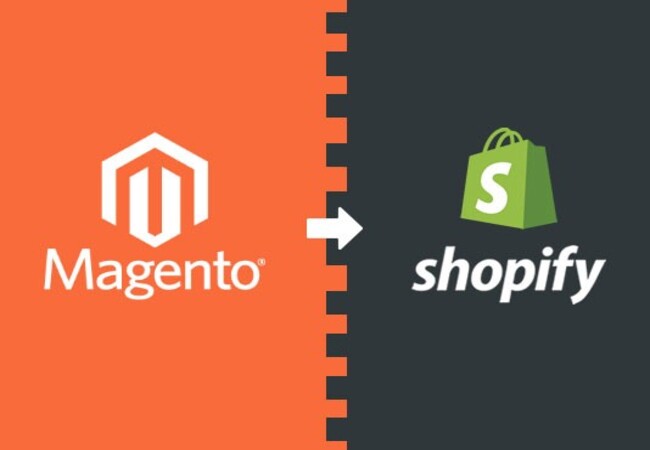 First of all, you need a Shopify store so go ahead and set one up if you haven't already.
Assuming you have done that, we can move forward with the following steps. In order to make any sort of changes to your store, you need to have everything backed up to ensure you don't suffer any data damage or loss. Magento Connect Manager, also known as MCM, includes a backup option that you can use before installing an extension or upgrading to a new release.
With Magento, the site restoring process is quite simple. Whether you are Magento 1.x or Magento 2.x user, you can easily backup your database by following these steps:
Log in to your Magento admin panel and go to System-> Tools-> Backups. Here you will see three options – System Backup, Database and Media backup, Database backup. Asses which option to choose, and select from one of the following
System Backup – It packs your entire source code with the database into one tar archive.

Database and Media backup –This saves your database and media folder's content, however, entities like store themes are not included.

Database Backup – This will take your Magento store data dump.
Side note – During this process, it would be best to put the store into maintenance mode to inform your website visitors to come back another time. After the backup is created, the maintenance mode is turned off automatically.
Next, you want to go ahead and perform the actual migration process. There are a hundred ways to do so and some are more tedious than others. But one of the simplest ways to go about it is with the help of a nifty little extension called LitExtension.
In order to use this, you need to create a new LitExtension account. Once you've done that, find the "Create new migration" button and you will find the main Dashboard with 4 stages of the migration process which include Setup, Demo Migration, Full Integration, and Completion.
Setup – First, insert your Magento URL and then download the "le_connector" to your computer. This "connector" has only one feature, which is creating a bridge between your Magento database with the LitExtension App. Extract the zip file and upload the Connector folder to Magento's root folder on your server.

Data Transfer – Select the data you want to transfer by reading and carefully selecting all the entities products and product categories, customers, orders, etc.) you wish to migrate such as Products and Product Categories, Customers, Orders, Languages, Order Status and Customer Groups, etc.

Run Migration – Before doing so, LitExtension also gives you a chance to run a demo so ahead and do that if you like. Following which you must run Full Migration. This last step does not require any manual intervention since it is cloud-based and can run in the background without any further interaction from the user. An added benefit to this is that your Magento store can still be up and running during the entire process of the full migration which means no loss in revenue and the whole process is completely automatic.
What are the benefits of using Magento over Shopify?
To keep things simple and sum it up quickly here are a few reasons why you might want to pick Magento to migrate to:
Magento Is A FREE Open Source Platform

Complete Freedom Of Customization

Impeccable Community Support

Large Collection Of Themes

5000+ Apps And Add-Ons Availability

Multi-Lingual Support
To know more about how Magento can help with your SEO requirements click here.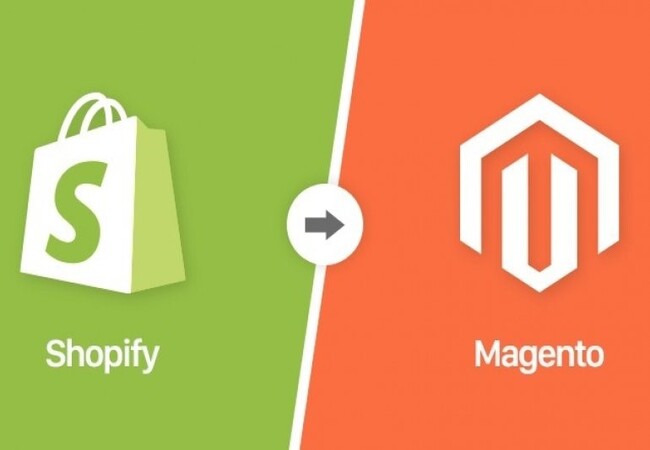 Now let's go through how you can migrate from Shopify to Magento.
First and foremost you need to set up a LitExtension account. You can register an account or sign in on the LitExtension site using your Google or Facebook account.
Once you've done that you want to go ahead and create a new migration.
For that, you need to go to the migration page of your Magento store and click Create New Migration at the top right button on the screen. Select Shopify as Source Cart Type and provide its URL into the blank bar. Follow the brief instruction to get your API info and fill them in the form.
The next step is to Select Magento as a Target Cart Type and provide its URL into the blank bar. Then, click LitExtension Connector to download the connector, extract the zip file, and upload the connector to Magento's root folder. Here the Connector Installation will be automatically checked and informed on the screen without manual checking.
Thereafter you want to select the items you wish to migrate. You can do so by selecting them all together or go by categories which include Product, Customer, Orders and so on. LitExtension also provides Additional Options here to extend your migration possibilities where you can choose to export your preferences in Languages, Order Status, and Customer Groups which will then be matched together to be displayed correspondingly in the new store.
There you have it. Now you can freely start your migration process. Before doing so, make sure you've checked all that you need to export to avoid and loss of data which can prove to be detrimental to your business at a later stage. Needless to say, you must exercise caution at this stage.
If you still have doubts or need help with migration from your Magento to Shopify store you can head over to our website and leave a query on the Contact Us page.  If you choose to hire Shopify or Magento developers from Mobikasa you can take it the gospel that your store will be up and running in no time.